Situated between the districts of Clapham Junction and Nine Elms in South London, The Park exists as a sanctuary of nature in an increasingly urban environment. The eight themed gardens feature flora as diverse as palm trees and roses. Visitors can also enjoy the network of lakes and ponds alive with fish, insects and fowl. Songbirds and squirrels populate the Plane-tree lined carriageways, and, in recent years, brightly-coloured ring-necked parakeets (pictured) have become a common sight.
To celebrate the range of wildlife in the park, twice yearly, the Friends invite experts to give talks. Information about these 'Spring and Autumn Lunchtime Lectures' can be found in Events.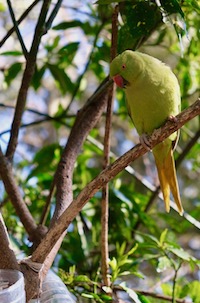 The 83 hectares of Battersea Park include over 4000 trees, many of which follow the original layout of 1858. Highlights include:
The Plane Trees that line the main carriageways.
Cherry Tree Avenue, between the cricket pitches and playgrounds/ Go Ape
The ancient Hybrid Strawberry Tree. Planted in 1860 this was once the largest in the country. Sadly it was significantly damaged by Storm Eunice in Feb 2022
Monkey Puzzle, near the entrance to the Old English Garden on North Carriage Way.
More information about arboreal aspects of the Park can be found at batterseapark.org.
If you would like to find out more about the trees while walking why not try our new interactive map, designed and built by Clive Freedman. The map identifies trees of interest, month by month.
Click the button below and the map will open in a new window. The map looks  like this: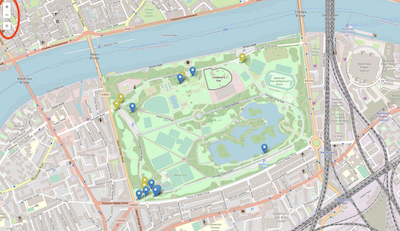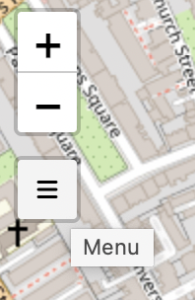 To access the map menu please click the 3 line 'hamburger' menu (as seen here), which will bring up the map options, and a link back to the Friends' site.
For more information on how to use the map please click here. 
The eight themed gardens are: The Winter Garden (by Sun Gate); The Sub-Tropical Garden (to the west of the lakes); the Old English Garden (south of North Carriage Drive between the Cricket Pavilion and 'Festival' fountains); Herb Garden and Promontory Garden (both to the north of Albert Gate); Russell Page Garden (between the Zoo and 'Festival' fountains); Thrive Gardens (by Thrive, next to the Millennium Arena); and the Rosery Gardens by Rosery Gates. 
Find more about the Gardens of the Park at Batterseapark.org